LFi Labs Dubai Tech Hub: 1000 Visitors for LFi One and Minters
Toronto, Ontario–(Newsfile Corp. – September 19, 2023) – LFi, a leader in cutting-edge technology, remains at the forefront of innovation in Dubai as it strengthens its local footprint through the soft inauguration of the LFi Labs' latest office.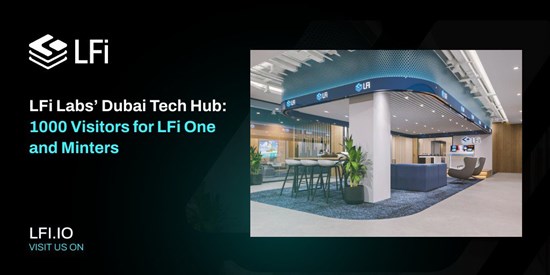 LFi Labs Dubai Tech Hub: 1000 Visitors for LFi One and Minters
To view an enhanced version of this graphic, please visit:
https://images.newsfilecorp.com/files/8840/181026_fd535e3ee49c2b2a_001full.jpg
Recently, more than a thousand guests were granted an exclusive preview of the new office space, set to become the epicenter of LFi's pioneering advancements and innovations in the local scene.
The LFi project embodies a dynamic amalgamation of cryptocurrency, financial services, and cutting-edge technology, aiming to catalyze innovation, promote inclusivity, and empower individuals with financial autonomy.
The tech startup aspires to deliver various products and services, expanding people's access to essential tools and knowledge for navigating the crypto and Web3 realms.
Dubai has maintained its pioneering spirit, continuously pushing the limits of what can be achieved. The local establishment of LFi Labs provides the brand with a strategic presence. It firmly anchors it in one of the most forward-thinking, influential, and technology-driven economic centers in the Middle East and North Africa.
Moreover, the city's lively and ever-evolving ambiance aligns seamlessly with the office's core values, where the unwavering dedication to innovation and excellence takes center stage.
With its roots firmly planted in the local community, this startup taps into Dubai's rich tapestry of intellectual diversity and formidable strengths, all while actively seeking to engage with the most brilliant and visionary minds across the region.
The company aspires to foster collaboration with individuals from diverse backgrounds-visionaries, tech enthusiasts, or creative geniuses-unleashing groundbreaking ideas that will sculpt the future.
The exclusive preview of LFi Labs provided a unique opportunity for a few to explore the newly opened facility. This immersive event provided a sneak peek into the brand's exciting future by showcasing the LFi One smartphone, the cutting-edge xLFi Minters, and a range of other innovative products.
As the official opening draws near, CEO Luiz Góes is enthusiastic about the exciting possibilities for fresh collaborations with regional experts and stakeholders. Góes remarked:
"We have always envisioned LFi Labs as a space facilitating relentless innovation and intensive collaboration. With our new office in Dubai, it fortifies its commitment to bring forth a new and brighter era for crypto and technology, not just in the region but the whole world."
About the LFi Project
LFi is a pioneering technology company committed to advancing the global fintech movement. Our mission revolves around creating cutting-edge solutions by seamlessly integrating state-of-the-art hardware and next-generation software.
Through harnessing the potential of advanced computing and blockchain technology, our ecosystem envisions a future where financial independence is within reach, offering an array of integrated products and solutions.
To delve deeper into the remarkable journey of LFi, we invite you to explore our website or connect with us on social media to stay updated on our latest developments:
Website – https://lfi.io/
Telegram – https://t.me/lfiofficial
Twitter – https://twitter.com/lfiecosystem
Facebook – https://www.facebook.com/lfiecosystem
Instagram – https://www.instagram.com/lfiecosystem/
Medium Blog – https://lfiofficial.medium.com/
YouTube – https://www.youtube.com/channel/UCblYGy4pyrJnhgy_h8NMiLg
PR Contact
Samantha Davis
Email: [email protected]
Location: Dubai, UAE
To view the source version of this press release, please visit https://www.newsfilecorp.com/release/181026