LBank Exchange Will List DEVITA (LIFE) on May 1, 2023
Road Town, British Virgin Islands–(Newsfile Corp. – April 28, 2023) – LBank Exchange, a global digital asset trading platform, will list DEVITA (LIFE) on May 1, 2023. For all users of LBank Exchange, the LIFE/USDT trading pair will be officially available for trading at 8:00 UTC on May 1, 2023.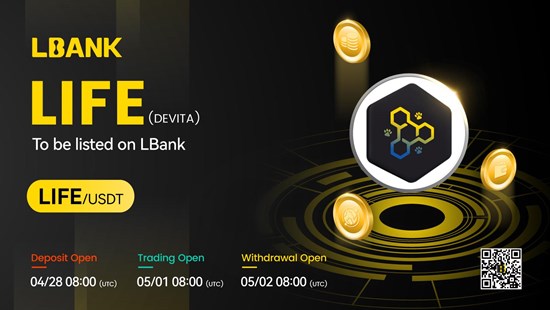 LIFE Listing Banner
To view an enhanced version of this graphic, please visit:
https://images.newsfilecorp.com/files/8831/163814_b85c4fc354a989a2_001full.jpg.
As an innovative decentralized data platform, DEVITA (LIFE) tackles enduring challenges within both human and pet healthcare infrastructure. It empowers users with seamless access to personal and pet healthcare services while offering the opportunity to earn through the provision of health data. Its native token, LIFE, will be listed on LBank Exchange at 8:00 UTC on May 1, 2023, with the goal of expanding its global footprint and supporting the realization of its forward-thinking objectives.
Introducing DEVITA
LBank Exchange is thrilled to announce the upcoming listing of Devita (LIFE), a groundbreaking blockchain project focused on data sovereignty for both pet owners and individuals seeking to manage health data. As a comprehensive platform, Devita offers users the unique opportunity to maintain control over personal health information, as well as that of beloved pets.
Devita's innovative ecosystem brings together various services, including a decentralized identity (DID) solution for users and pets. This allows users to securely store, manage, and share data with relevant parties, such as veterinarians, pet care providers, and healthcare professionals, while maintaining full control over personal information.
Furthermore, the platform features a proprietary messenger with built-in crypto transactions, encrypted video/voice calls, and a cutting-edge AI chatbot based on GPT-4 technology. This chatbot is not only designed to assist pet owners with basic diagnoses and other pet care inquiries but also excels in being highly crypto-literate. It aims to help users who are not crypto-native with tasks such as setting up wallets, troubleshooting, and learning about crypto/blockchain in a simple and user-friendly manner.
Devita also incorporates a thriving NFT-powered data marketplace, where users can monetize data by sharing it with interested parties in a secure, transparent, and privacy-focused environment. By putting the power of data back into the hands of users, Devita aims to transform the pet care and personal health management sectors, fostering a new era of empowerment, trust, and data privacy.
As Devita (LIFE) prepares to list on LBank Exchange on May 1st, 2023, individuals are invited to join in celebrating this exciting milestone and discover the remarkable potential of this visionary project.
About LIFE Token
The LIFE token is a utility token with many in-built features that can be transacted both inside and outside of the DEVITA platform ecosystem. It has many interesting utilities including being exchanged for the ecosystem stable-coin in order to transact with in-app services or payment transactions, fully on-chain protocol governance, delegation of votes, staking, inter-ecosystem transactions, cross-chain bridging, P2P payments, DAO participation, and more. 
Based on ERC-20, LIFE has a total supply of 10 billion (i.e., 10,000,000,000) tokens. it will be listed on LBank Exchange at 8:00 UTC on May 1, 2023, investors who are interested in DEVITA can easily buy and sell it on LBank Exchange by then. 
Learn More about LIFE Token:
Official Website: https://www.devita.global
Telegram: https://t.me/joinchat/Uk8TtApEDOhjYjdl
Discord: https://discord.com/invite/vncP7b9YFq
Twitter: https://twitter.com/Devitaglobal
Instagram: https://www.instagram.com/devita.global/
Medium: https://medium.com/@devita_global
About LBank
LBank is one of the top crypto exchanges, established in 2015. It offers specialized financial derivatives, expert asset management services, and safe crypto trading to its users. The platform holds over 9 million users from more than 210 regions across the world. LBank is a cutting-edge growing platform that ensures the integrity of users' funds and aims to contribute to the global adoption of cryptocurrencies.
Start Trading Now: lbank.com
Community & Social Media:
l Telegram
l Twitter
l Facebook
l LinkedIn
l Instagram
l YouTube
Contact Details:
LBK Blockchain Co. Limited
LBank Exchange
[email protected]
[email protected]

To view the source version of this press release, please visit https://www.newsfilecorp.com/release/163814