LuxWorld (LUX) Announces Uniswap Listing and Global Ambassador Program
LuxWorld's $LUX token is making waves in the cryptocurrency market with its listing on Uniswap. The platform had successfully migrated to Arbitrum One for faster and cheaper transactions. Be part of the revolution and earn rewards while exploring new travel destinations.
Singapore City, Singapore, March 23, 2023 (GLOBE NEWSWIRE) — LuxWorld takes a big step in the cryptocurrency market by listing its $LUX token on Uniswap, one of the most popular decentralized exchanges, on March 22nd, 2023. To mark this milestone, LuxWorld will pool five million $LUX tokens and $50,000 of liquidity, creating a fantastic opportunity for traders to earn rewards while exploring new travel destinations:
Trading Pair: LUX/USDT
Liquidity: 5 Million $LUX tokens + $50,000
Date: March 22nd, 2023
Contract (Arbitrum): 0x58b13dE0b56c91497B1AaEb344BE2a4D7d0478C2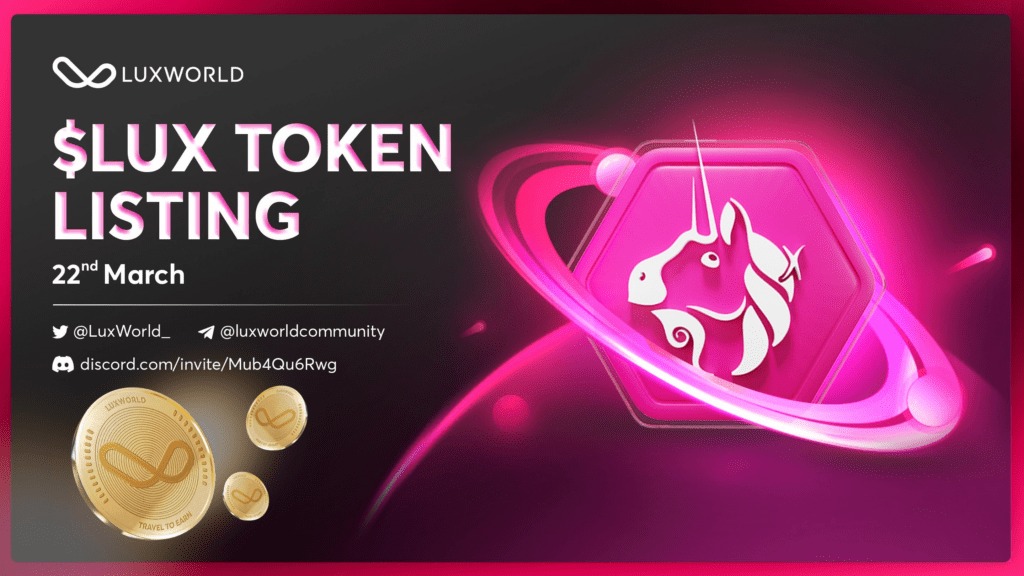 As a member of the community, you can expect an exceptional experience backed by cutting-edge technology and a team dedicated to providing seamless, secure, and rewarding trading experiences. Join LuxWorld as it takes the next step in its mission to create a revolutionary platform for global travel enthusiasts.
LuxWorld Transitions to Arbitrum One, LUX/USDT Pair Now Live on BitMart
The platform has now migrated to Arbitrum One, an Ethereum Layer 2 scaling network known for its ability to offer low gas fees and high transaction speeds, responding to user feedback since launching on the CEX exchange regarding high gas fees and slow transaction speeds on the Ethereum network.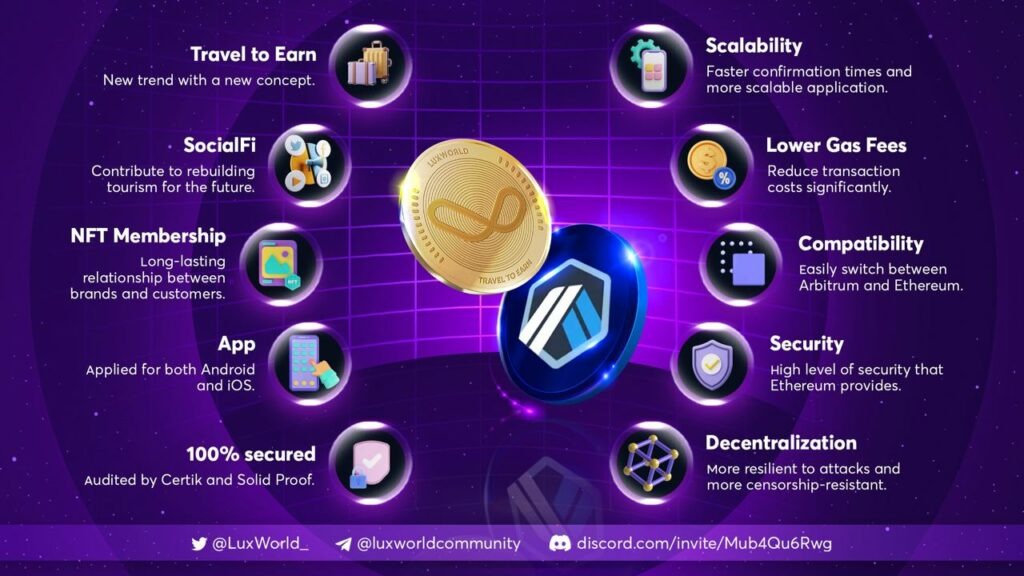 To ensure holders retain their respective rights, the project conducted a token swap using a snapshot taken on February 24th, 2023, and tokens were airdropped to holders at a ratio of 1:1, and subsequently transferred to their wallet addresses on the Arbitrum network.
The LUX/USDT trading pair on the BitMart exchange is now available, and the contract address on Ethereum has been replaced by the new contract address on Arbitrum of 0x58b13dE0b56c91497B1AaEb344BE2a4D7d0478C2, with no changes to the tokenomics.
Token Info:
Token Name: LUXWORLD TOKEN
Token Symbol: LUX
Token Type: Arbitrum
Total Supply: 2,000,000,000 LUX
Link to Arbiscan: https://arbiscan.io/token/0x58b13de0b56c91497b1aaeb344be2a4d7d0478c2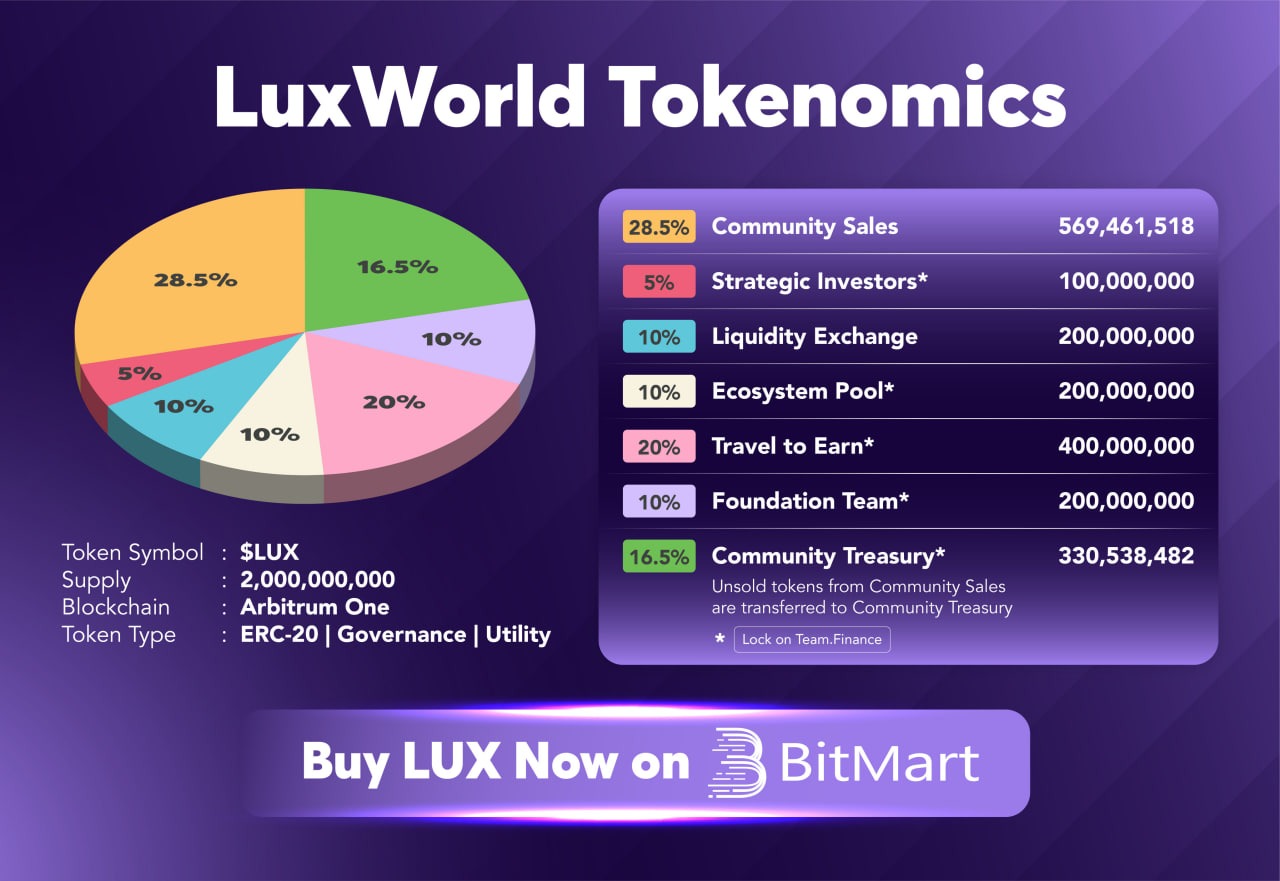 LuxWorld's migration to Arbitrum One was a smooth process, and the platform has already reaped the benefits of faster transaction times, lower gas fees, and improved scalability. LuxWorld's commitment to creating a revolutionary platform for global travel enthusiasts has never been stronger. Don't miss out on this opportunity to be part of the journey. Mark your calendars for March 22nd, and get ready to trade $LUX tokens on Uniswap.
About LuxWorld
LuxWorld is being developed to keep up with developments and to integrate travel into the Web3 world. The application is built on a few available parts based on SocialFi – a mix of social networking and finance used to develop decentralized social apps.
Global Ambassador Program 
At LuxWorld, we are committed to providing our users with the best services and support possible. That's why we are excited to announce the launch of our Ambassador Program, which will establish focused groups and communities to support users worldwide.
Travel to Earn
Exploring LuxWord, you will soon realize that your discoveries are more valuable than you think: going outdoors, traveling, and checking in may earn tokens anytime and from any location.
Users can reward useful material with tips. You can be a traveler, a Check-in Node Owner, or both. Only by using Luggage NFTs, you make a nice profit while still enjoying your trip to the fullest. With the wonderful Check-in Node NFT, you can leave your mark in an incredible virtual environment and earn limitless money.
Social-Fi
While large organizations control traditional social media, Social-Fi has created a way of networking that maintains the privacy and safety of users and gives them more freedom and benefits from decentralized social networks.
In LuxWorld, users can profit by producing content based on their travel experiences, creating NFTs, and engaging in social activities with the community.
NFT
LuxWorld creates a relationship between brands and customers through the NFT Membership mechanism while they participate.
Learn more about the project:
Website: https://lux.world/
Twitter: https://twitter.com/luxworld_
Youtube: https://www.youtube.com/channel/UCE1pG6PHqHRyO27SEETWXng
Discord: discord.com/invite/Mub4Qu6Rwg
Telegram: https://t.me/luxworldcommunity
Facebook: https://www.facebook.com/luxworld.official
Medium: https://luxworld.medium.com/
DISCLAIMER: The Information on this website is provided as general market commentary and does not constitute investment advice. We encourage you to do your own research before investing.
Join us to keep track of news: https://linktr.ee/coincu
Thana
Coincu News
CONTACT: Cristian Gouldney
LuxWorld
Jun-at-lux.world