MAZURI (MZR) Is Now Available for Trading on LBank Exchange
Road Town, British Virgin Islands–(Newsfile Corp. – March 1, 2023) – LBank Exchange, a global digital asset trading platform, listed MAZURI (MZR) on February 28, 2023. For all users of LBank Exchange, the MZR/USDT trading pair is now officially available for trading.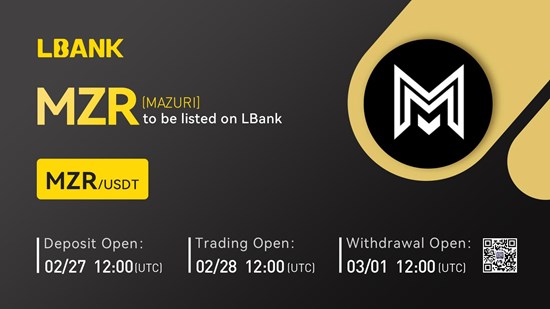 MZR Listing Banner
To view an enhanced version of this graphic, please visit:
https://images.newsfilecorp.com/files/8831/156508_0cf2294214764a29_001full.jpg
As the first hand-to-hand fighting oriented GameFi project within a metaverse, MAZURI (MZR) provides a unique gaming experience, which gives each player an opportunity at becoming a famous fighter, a wealthy cyber-athlete, a known celebrity both within the game and the real world. Its native token MZR has been listed on LBank Exchange at 12:00 UTC on February 28, 2023, to further expand its global reach and help it achieve its vision.
Introducing MAZURI
MAZURI City provides a unique gaming experience through an in-depth hand-to-hand combat PvP and PvE, along with Blockchain technology integration, which will allow players to be rewarded with MZR Tokens.
The GameFi project of MAZURI is meant to give players an opportunity to achieve the "Fighter Fantasy" while simultaneously giving an opportunity to earn tokens for various activities. The project will have open world PvP via duels, customization items and quality of life improvements which can be earned along with different scales of tournaments and a lot of ranked points though a special currency in MAZURI City. Additionally, injuries, workouts, training, apartments, vehicles and many other features will be implemented into its open world.
Specifically speaking, MAZURI is a massive futuristic city on an island in the year 2040. When everywhere else physical violence has been banned, MAZURI City remains the only place where fighters can practice their craft and make a full living off of it. This is where the player takes on a role of a fighter and embarks on their adventure towards fame, glory and wealth.
As a city where almost every situation can and should be solved with fists, MAZURI builds a world where the players will engage in a never-ending competition for money, glory, and power. Players will look after their fighters, create their own gangs, raid other gangs, and will have the ability to build the city into what they want it to be.
The city consists of 7 circles, and 8 distinct districts, all together it will have 56 different blocks. Each circle will represent a different class of players, and each district will portray a different culture from all over the world. All fighters will start on the outskirts of the city in relatively poor neighborhoods. As they play, train and win street fights and tournaments they will earn both tokens and Raked points, which is called STREET CRED. The more STREET CRED a fighter has, the more access they have to the features of the city. Higher STREET CRED players will be allowed to enjoy activities in the circles closer to the downtown of MAZURI City with better food, better gyms, better doctors, better cars, better clubs, better real estate, better paid fights, and exclusive in-game items.
In addition, there will also be a one-stop trading platform called MAZURI GameFi Marketplace that connects all players in the game so that they can buy and sell all types of assets, from clothing to cyber-estate. Most of the assets traded on the Marketplace will be earned by completing in-game tasks and reaching in-game thresholds. One NFT will unlock five others etc.
About MZR Token
As the native token of MAZURI ecosystem, MZR will be used for multiple applications, including in-game transactions, duels, tournaments prize pools, and the purchase of in-game assets such as estates, services, customization items, or other commodities. It's also the DAO government token of the MAZURI DAO, which gives the holder voting power. Governance is needed to manage the staking criteria, in-game rewards, and any other subsequent changes to the protocol.
Based on ERC-20, MZR has a total supply of 100 million (i.e., 100,000,000) tokens, of which 3% is provided for seed sale, 6% is provided for private sale, 8% is provided for public sale, 20% is allocated for P2E and Staking, 15% will be used for marketing, 25% goes into the treasury and foundation, 3% is provided for LP incentives, and the remaining 20% is allocated to the team.
MZR token has been listed on LBank Exchange at 12:00 UTC on February 28, 2023, investors who are interested in the MAZURI can easily buy and sell it on LBank Exchange right now. 
Learn More about MZR Token:
Official Website: https://www.mazuri.io
Telegram: https://t.me/mazurigamefi
Discord: https://discord.gg/KgP7d6GX6x
Twitter: https://twitter.com/MazuriGamefi
Instagram: https://www.instagram.com/mazuri_gamefi/
About LBank
LBank is one of the top crypto exchanges, established in 2015. It offers specialized financial derivatives, expert asset management services, and safe crypto trading to its users. The platform holds over 9 million users from more than 210 regions across the world. LBank is a cutting-edge growing platform that ensures the integrity of users' funds and aims to contribute to the global adoption of cryptocurrencies.
Start Trading Now: lbank.com
Community & Social Media:
l Telegram
l Twitter
l Facebook
l LinkedIn
l Instagram
l YouTube
Contact Details:
LBK Blockchain Co. Limited
LBank Exchange
[email protected]
[email protected]

To view the source version of this press release, please visit https://www.newsfilecorp.com/release/156508