LBank Exchange Will List GemHUB (GHUB) on February 23, 2023
Road Town, British Virgin Islands–(Newsfile Corp. – February 21, 2023) – LBank Exchange, a global digital asset trading platform, will list GemHUB (GHUB) on February 23, 2023. For all users of LBank Exchange, the GHUB/USDT trading pair will be officially available for trading at 6:00 UTC on February 23, 2023.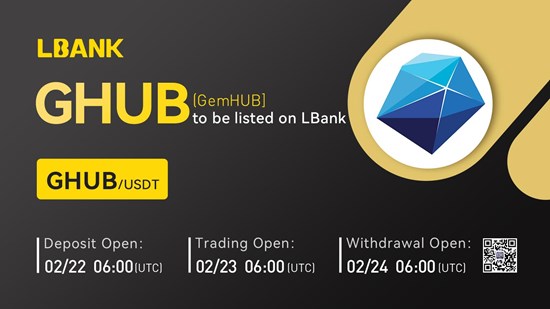 GHUB Listing Banner
To view an enhanced version of this graphic, please visit:
https://images.newsfilecorp.com/files/8831/155528_762f43fa7477589b_001full.jpg
As one of the most convenient and fun blockchain gaming platforms, GemHUB (GHUB) provides easily accessible blockchain games to its users while encouraging the participation of game companies in the blockchain game market and global expansion by providing game-oriented De-Fi services. Its native token GHUB will be listed on LBank Exchange at 6:00 UTC on February 23, 2023, to further expand its global reach and help it achieve its vision.
Introducing GemHUB
Many game companies have difficulties in accessing the blockchain game market as they do not have a complete understanding of the blockchain ecosystem and have shortages in development manpower, while SMEs have been unwilling to accept tokens from large game companies and are reluctant to be subordinated to governance. For this reason, many game companies require assistance from external partners specialized in blockchain technology and business planning.
GemHUB is a project that encourages the participation of game companies in the blockchain game market and global expansion by providing game-oriented De-Fi services. It builds the most convenient and fun blockchain gaming platform for users to create, experience and monetize games.
Equipped with a competitive platform technology system for usability and scalability, GemHUB achieves excellent usability for users through a decentralized mini app platform that includes not only GemHUB's games, but also wallets, swapping services, and a variety of content services. Users will be able to use any content services without having to install different wallets, and access to a variety of content developers-games, shopping, webtoons etc. It is also easy to transfer assets acquired through the games on GemHUB where games are linked.
In addition, GemHUB provides an environment where game companies can grow together with other content while ensuring autonomy. They can have their own tokens and use them to construct their own in-game ecosystems, while number of potential users can be rapidly increased for influxes of games and content. Community can also be revitalized through the sharing of a variety of game events and content information within the platform.
Aiming for P&E (Play and Earn) experiences, GemHUB intends to expand upon the concept of P2E (Play to Earn) with a clear purpose to create additional profits while also allowing users to enjoy games. It supports blockchain games and NFT platforms, leading the market and maximizing the investment value of the industry by playing the role in the rapidly growing blockchain game market. The GemHUB team will grow together as an attractive platform for game companies, game users, and De-Fi investors by proposing and discussing blockchain structures and functions suitable for each game and GemHUB ecosystem.
About GHUB Token
GHUB is the native token of GemHUB ecosystem. Utilizing highly sustainable tokenomics, various structures for burning and reward systems are configured in GemHUB's tokenomics to enhance the sustainability of GemHUB's ecosystem and preserve investment value. These structures are able to issue InGame tokens only within the size of the GHUB token to prevent decreases in GemHUB value; collect part of token when it is distributed in the game to maintain the GHUB token value through not only the Buyback Fund, but the Eco Fund system; and distribute airdrops for tokens for all games released after providing GemHUB liquidity.
Based on Klaytn network, GHUB has a total supply of 1.2 billion (i.e., 1,200,000,000) tokens, of which 740 million tokens are provided for the ecosystem, 120 million tokens are allocated to investors, 100 million tokens will be used for marketing and building partnership, 163.2 million tokens are allocated to the team, and the remaining 76.8 million tokens are allocated to advisors.
GHUB token will be listed on LBank Exchange at 6:00 UTC on February 23, 2023, investors who are interested in the GemHUB can easily buy and sell it on LBank Exchange by then. 
Learn More about GHUB Token:
Official Website: https://www.gemhub.io
Telegram: https://t.me/GemHUB_Protocol_ENG
Twitter: https://twitter.com/GemHUB_Protocol
Medium: https://medium.com/gemhub
About LBank
LBank is one of the top crypto exchanges, established in 2015. It offers specialized financial derivatives, expert asset management services, and safe crypto trading to its users. The platform holds over 9 million users from more than 210 regions across the world. LBank is a cutting-edge growing platform that ensures the integrity of users' funds and aims to contribute to the global adoption of cryptocurrencies.
Start Trading Now: lbank.com
Community & Social Media:
l Telegram
l Twitter
l Facebook
l LinkedIn
l Instagram
l YouTube
Contact Details:
LBK Blockchain Co. Limited
LBank Exchange
[email protected]
[email protected]

To view the source version of this press release, please visit https://www.newsfilecorp.com/release/155528