SuperEx Launches P2P Trading Platform and Invites Merchants to Join
Summary: SuperEx is a newly established crypto exchange platform. Recently, the company announced the launch of its P2P Trading.
Toronto, Ontario–(Newsfile Corp. – February 12, 2023) – SuperEx, the world's first Web 3.0-based cryptocurrency exchange, officially launched its P2P trading platform on 10th of February 2023. The platform provides peer-to-peer trading services for BTC, USDT and other digital assets with zero transaction fees, making it a more convenient and faster solution for traders around the world.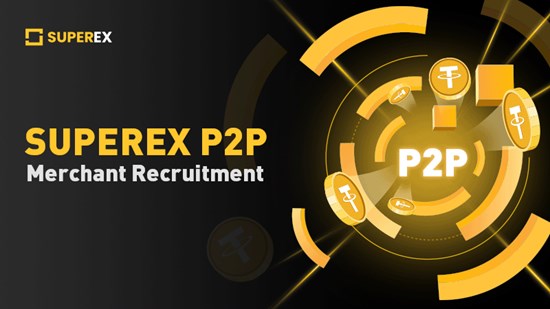 SuperEx
To view an enhanced version of this graphic, please visit:
https://images.newsfilecorp.com/files/8703/154527_67ebd18c04eeab89_001full.jpg
With the new development, SuperEx is looking for qualified merchants from around the world to join its P2P trading platform. The early-stage merchants can enjoy several benefits, including zero transaction fees and targeted promotions.
SuperEx is thrilled to launch its P2P trading platform, taking the cryptocurrency trading experience to a whole new level. It invites merchants from around the world to join SuperEx and be a part of this exciting journey.
Furthermore, the company focuses on Peer-to-peer (P2P) trading that involves the exchange of fiat currencies and cryptocurrencies between merchants and users. The services of SuperEx comes with added advantage of allowing users to select their trading partners, set their own preferred prices, and choose a mutually agreed payment method.
For protection of users and merchants from potential risks, SuperEx has implemented a comprehensive Know Your Customer (KYC) and risk management system. The platform's initial phase focuses on customized trading options and other buying options will be made available soon.
The P2P merchants refer to individuals or organizations that earn profits by publishing advertisements for fiat trading and completing P2P transactions on the SuperEx P2P fiat currency trading platform. To apply, merchants can visit https://p2p.superex.com/becomeMember to apply or send their personal UID, contact information, country of residence/nationality, and the access to fiat currency or the preferred fiat currency for trading to [email protected].
SuperEx P2P merchants can take advantage of several benefits, including zero fees, multiple encryption bank-level security systems, regularized deposit systems, regional protection, and 7×24-hour exclusive customer service support. The P2P trading volume will be counted in the total trading volume of the merchant's SuperEx spot account and included in the VIP level measurement.
Consequently, SuperEx is facilitating the merging crypto traders and merchant with its exclusive crypto services. With its already launched DeFi wallet login, IEO, SuperWallet, and other similar products, the launch of its P2P trading platform is expected to further enhance users' cryptocurrency trading experience.
SuperEx P2P Launch Event
To celebrate the launch of the SuperEx P2P trading platform, the company is organizing a launch event for high-quality merchants who successfully advertise on the platform and trade successfully during the event period.
About the Company – SuperEx
SuperEx is the world's first Web 3.0-based cryptocurrency exchange, supporting over 500 spot trading pairs and 150 perpetual contract pairs with up to 150x leverage. The exchange offers a one-stop trading experience with a fast-trading system, user-friendly UI design, and full platform operation.
With over 10 million registered users and 23 DAO teams worldwide, SuperEx is rapidly growing towards complete decentralization. Join the SuperEx P2P launch event through the following link: https://support.superex.com/hc/en-001/articles/15400068967705
For more information, potential users can visit the following links:
https://www.superex.com/index
https://medium.com/@superex
https://twitter.com/SuperExet
https://t.me/SuperExOfficial
Contact: Romeo Guo
Email: [email protected]
Website: www.superex.com
To view the source version of this press release, please visit https://www.newsfilecorp.com/release/154527