Global Web 3.0 Blockchain Market Size Zooming More Than 11X to Cross USD 38 Billion With the CAGR of 41.9% by 2029 | BlueWeave Consulting
Geographically, North America is expected hold the highest market share. The increasing acceptance of Web 3.0 in various operating systems, such as blockchain-based systems, is a crucial factor driving regional market expansion. At the same time, the presence of key blockchain solution providers in the region, such as Web3 Foundation and Helium Systems Inc., is boosting regional growth. During the forecast period, Asia Pacific is expected to be the fastest-growing market. The rapid adoption of digitalization using Web 3.0 by banking and financial organizations is a crucial driver driving the Asia Pacific region's growth. Simultaneously, the region's retail and e-commerce businesses are expanding, making it one of the greatest contributors to the blockchain industry. Such factors as those described above augur well for the growth of Web 3.0 blockchain in Asia Pacific.
New Delhi, Feb. 10, 2023 (GLOBE NEWSWIRE) — Global web 3.0 blockchain market is flourishing because of a growing focus on transparency, a surging demand for data privacy through the decentralized identity of web 3.0 and increasing usage of connected devices.
BlueWeave Consulting, a leading strategic consulting and market research firm, in its recent study, estimated global web 3.0 blockchain market size at USD 3.32 billion in 2022. During the forecast period between 2023 and 2029, BlueWeave expects global web 3.0 blockchain market size to grow at a significant CAGR of 41.9% reaching a value of USD 38.14 billion by 2029. Major growth factors of global web 3.0 blockchain market include rising demand for data privacy as a result of Web 3.0's decentralized identity and increasing internet technological advancements. The rapid increase in awareness of digital assets such as cryptocurrencies, as well as the deployment of 5G and 6G technologies, are projected to significantly contribute to growth. Moreover, the increasing use of linked devices, together with enhanced transaction procedures, is fueling the expansion of the Web 3.0 blockchain market. Several players are working on Web 3.0 platforms to improve operational scalability and flexibility for users. The increasing use of Web 3.0 technology for many business applications such as smart contracts, digital identification, documentation, and exchanges is predicted to boost the growth of the Web 3.0 industry. In Web 3.0, Self-Sovereign Identity (SSI) is an effective method of digital identity. SSI is a method of identity that places information control around the user. SSI eliminates the need to save the user's personal information on a central database entirely and provides consumers with greater flexibility over what information they disclose, thereby protecting their privacy. Such SSI benefits in Web 3.0 are expected to significantly promote growth during period in analysis. However, increasing cyber-attacks is anticipated to restrain the overall market expansion.
Sample Request @ https://www.blueweaveconsulting.com/report/web-3-0-blockchain-market/report-sample
Global Web 3.0 Blockchain Market – Overview
Web 3.0 is built on three fundamental pillars: artificial intelligence (AI), blockchain technology, and machine learning (ML). The ability of web 3.0 to allow consumers to access decentralized apps using decentralized blockchain technology is the major factor driving industry growth. Web 3.0 helps consumers to manage their data on websites and provides context based on their search content. Web 3.0 has transformed human-machine communication by enabling frictionless ownership transmission, cryptocurrency-based payments, and data movement. Because of blockchain technology for Web 3.0, people may choose what data they disclose. The client controls THEIR data, not any third-party source, with web 3.0 blockchain technology. As a result, the user now accepts personal data rather than third-party sources. Hence, blockchain technology has evolved. As the concept of data ownership takes hold, individuals are turning to web 3.0 blockchains to secure their data and address concerns about third-party vendor security and privacy.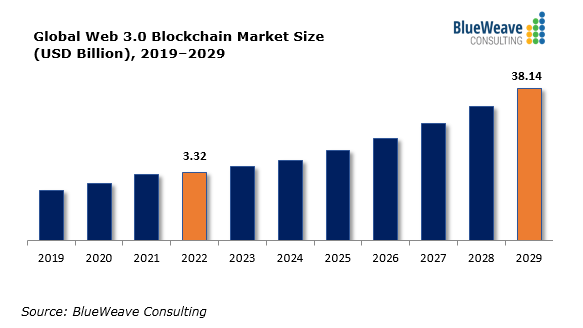 Challenges: Users' limited experience with web 3.0
Tech giants, such as Facebook, Microsoft, Google, and Amazon, have faced ongoing scrutiny for aggressive business methods, unethical AI use, and customer data use. This increased worry about data privacy has resulted in a paradigm change in the adoption of web 3.0. However, consumers' lack of familiarity with this evolving version has limited the widespread use of these technologies in recent years. Given the lack of understanding of Web 3.0, end-users' reliance on Web 2.0 is anticipated to hinder the market growth during the forecast period.
Please Visit the Press Release: https://www.blueweaveconsulting.com/press-release/global-web-3-0-blockchain-market-size-zooming-more-than-11x-to-cross-usd-38-billion-by-2029
Impact of COVID-19 on Global Web 3.0 Blockchain Market
The COVID-19 had a positive impact on the Web 3.0 blockchain market. Web 3.0, which is based on Blockchain technology, has altered the crypto landscape and digital payment infrastructure. The COVID-19 pandemic highlighted the importance of internet infrastructure, and countries worldwide have begun to implement technology for smart contracts, digital IDs, and digital exchanges. Furthermore, the growing popularity of Web 3.0 cryptocurrencies for faster transactions is likely to drive corporate growth.
Global Web 3.0 Blockchain Market – By Type
By type, global web 3.0 blockchain market is segmented into Public, Private, Consortium, and Hybrid. The public segment held the highest market share in 2022. A major reason fueling the segment's growth is the potential of public blockchain networks to allow people from all over the world to engage in the network without any limits. A public blockchain allows individuals from all around the world to join the network, read, write, and participate in the Blockchain. Additionally, public blockchain provides great security, an open environment, complete transparency, decentralization, and improved distribution. The hybrid segment dominated the market share in 2021. It is a critical component driving the segment's growth because of its ability to supply both permission-based and permission-less solutions. A hybrid Blockchain is a combination of public and private blockchains, with some portions controlled by the organization and others visible via the blockchain.
Competitive Landscape
Major players operating in global web 3.0 blockchain market include Web3 Foundation, Helium Systems Inc., Ocean Protocol Foundation Ltd., Zel Technologies Limited., Kusama, Livepeer, Inc., Filecoin, Kadena LLC, Polygon technology, and Terra. To further enhance their market share, these companies employ various strategies, including mergers and acquisitions, partnerships, joint ventures, license agreements, and new product launches.
Don't miss the business opportunity in the Global Web 3.0 Blockchain Market. Consult our analysts to gain crucial insights and facilitate your business growth.
The in-depth analysis of the report provides information about growth potential, upcoming trends, and statistics of Global Web 3.0 Blockchain Market. It also highlights the factors driving forecasts of total market size. The report promises to provide recent technology trends in Global Web 3.0 Blockchain Market and industry insights to help decision-makers make sound strategic decisions. Furthermore, the report also analyzes the growth drivers, challenges, and competitive dynamics of the market.
Recent Developments
In September 2022 – NEAR Foundation announced its plan to launch a USD 100 million venture capital fund and venture lab in collaboration with Caerus Ventures, a Swiss organization. The cash is intended for Web3 culture and entertainment.
In February 2022 – WazirX, a cryptocurrency exchange platform, unveiled Shardeum, a new Web 3.0 platform to address basic scalability issues.
Scope of the Report
Attributes
Details
Years Considered
Historical Data – 2019–2022
Base Year – 2022
Estimated Year – 2023
Forecast Period – 2023–2029
Facts Covered
Revenue in USD Billion
Market Coverage
North America (US, Canada), Europe (Germany, UK, France, Italy, Spain, The Netherlands, Belgium, NORDIC Countries, Rest of Europe), Asia Pacific (China, India, Japan, South Korea, Australia & New Zealand, Indonesia, Malaysia, Singapore, Philippines, Vietnam, Rest of Asia Pacific), Latin America (Brazil, Mexico, Argentina, Peru, Colombia, Rest of Latin America), Middle East & Africa (Saudi Arabia, UAE, Qatar, Kuwait, Iran, South Africa, Nigeria, Kenya, Egypt, Morocco, Algeria, Rest of Middle East & Africa)
Product/ Service Segmentation
Type, Application, End Use, Region
Key Players
Web3 Foundation, Helium Systems Inc., Ocean Protocol Foundation Ltd., Zel Technologies Limited., Kusama, Livepeer, Inc., Filecoin, Kadena LLC, Polygon Technology, Terra
By Type
Public
Private
Consortium
Hybrid
By Application
Cryptocurrency
Conversational AI
Data & Transaction storage
Payments
Smart Contracts
By End Use
BFSI
E-commerce & Retail
Media & Entertainment
Healthcare & Pharmaceuticals
IT & Telecom
By Region
North America
Europe
Asia Pacific (APAC)
Latin America
Middle East and Africa (MEA)
Please Find Below Some Related Topics:
About Us 
BlueWeave Consulting provides comprehensive Market Intelligence (MI) Solutions to businesses regarding various products and services online and offline. We offer all-inclusive market research reports by analyzing qualitative and quantitative data to boost the performance of your business solutions. BlueWeave has built its reputation by delivering quality inputs and nourishing long-lasting relationships with its clients. We are one of the promising digital MI solutions companies providing agile assistance to make your business endeavors successful.
Contact Us:
BlueWeave Consulting & Research Pvt. Ltd
+1 866 658 6826 | +1 425 320 4776 | +44 1865 60 0662
[email protected]
https://www.blueweaveconsulting.com/
https://www.linkedin.com/company/blueweaveconsulting/