IWI Proposes AI to Enhance Online Dating Interactions
Are they swiping right on someone based on their personality? We all associate online dating apps with a superficial experience of pretty privilege and lack of context.
Zagreb, Croatia, Feb. 09, 2023 (GLOBE NEWSWIRE) — The founders of IWI, the psychology-based dating app, grew tired of swiping on profiles of idealized versions of people. They require preselection and figure a growing slice of the population does too.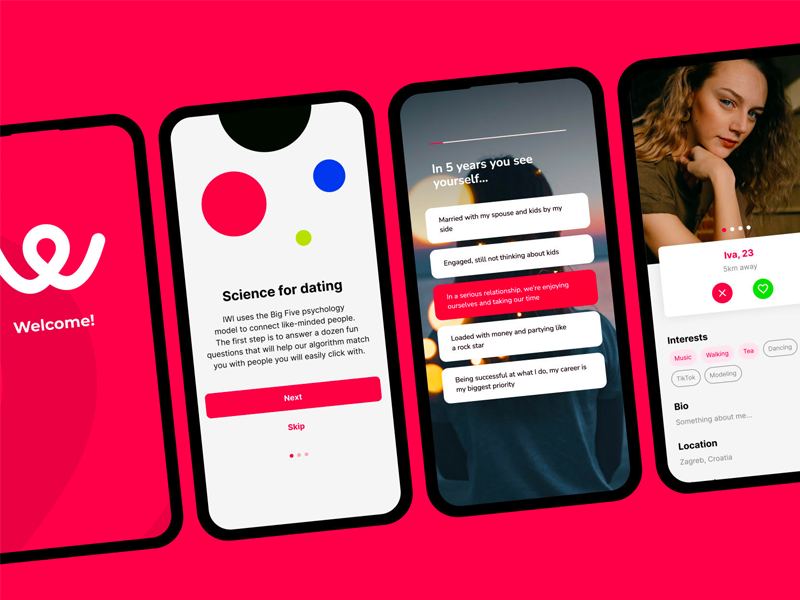 Optimized Online Dating with IWI
The IWI app is an AI-powered psychology-based dating app aiming to connect people based on their personalities. The process starts with a Big Five personality questionnaire. Next, the algorithm uses AI to help assess a person's profile and find suitable matches. Finally, the algorithm provides a tailored list of recommendations for the user.
Swipe fatigue is a symptom of the unoptimized online dating process and a problem IWI set to solve when they began building last year. They've discovered that over 75% of users believe preselection is necessary. Distress, boredom, and indecision often accompany the current online dating experience. IWI looks to shorten the time we spend swiping by leveraging the power of AI and a curated psychological test to make preemptive matches (suggestions) for you in their app. They have partnered with ConjureKit Technology to power the AI component of their algorithm.
Josip B, the founder of IWI, said:
We made IWI for people who seek a service that will help them connect with people based on more than looks.
AR Helping Enhance Interactions
The IWI builders have a deep passion for innovative technology. They have spotted many touch points on which current dating apps could allow matches to further engage with each other – using augmented reality functionality. The AR experience that the app is to build next consists of multiple features, such as a crowd scanner to help quickly identify and discover your matches in a large gathering. In this feature, the user could show off their personality by selecting which icon or imagery they would like to represent them in the crowd.
Cryptocurrency Payments
IWI has received investment from UniCrypt Network (UNCX), a leading decentralized finance service provider. It is in IWI's build pipeline to implement cryptocurrency transactions, and UniCrypt will also support them.
Just a Few Lines of Code Left To Go.
The team is excited to complete its offering by providing AR functionality and cryptocurrency payments to the app. They have set up a Kickstarter campaign to fund this next leg of development. 
Head over to their Kickstarter now to contribute: https://www.kickstarter.com/projects/ivaknezevic/iwi-the-app-that-bridges-online-and-real-life-matchmaking?ref=nav_search&result=project&term=iwi.
About IWI
IWI was built for people who seek to connect with others based on more than looks. Simply put, IWI matches people based on their personality types. You don't need to hide behind an idealized profile to find a compatible partner. If you want to meet a compatible person to build a meaningful relationship, you must show your true personality in the IWI sphere.
CONTACT: Josip Babic
josip-at-iwi-app.com